Your treasured purchases from Maison & Maison can last you a lifetime with the proper care. 
Our care instructions have been tested and handed down over generations.
We hope you find them easy to implement to keep your pieces looking as beautiful as the day you purchased them.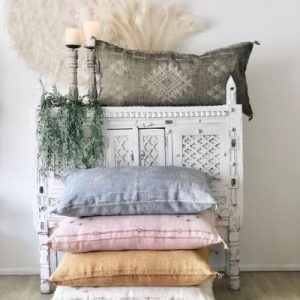 Our beautiful cactus silk cushions are coloured using natural dyes, then sun bleached on the roof top of the Moroccan Médinas.
These cushion covers must be dry cleaned to prevent colours from bleeding or fading. Please do not put these into the washing machine.
For small marks, spot clean with a soft cloth and minimal water.
3 Easy steps to help you stuff your new pouffe
Step 1   Place your Pouffe upside-down on a soft surface such as a carpet or a rug. To achieve the perfect result we suggest using a combination of fillings. Firstly you'll want to use some cushion/pillow stuffing or hobby-fill; create a layer about 1″ deep, a single cushion  should be plenty. This way, once completed your leather Pouffe with have smooth finish with no unwanted lumps or bumps.
Step 2   Follow step one by filling the remainder of the Pouffe with rags and fabric off-cuts no larger than 30cm x 30cm. Ensure you stuff the pouffe evenly from all angles to ensure it is even and well balanced. Keep filling the Pouffe until it is sturdy, firm and heavy.
Step 3   Once completely filled, zip up the Pouffe and turn it the correct way up. Now it is time to place it in your favourite nook or by the couch, pour yourself a glass of wine, sit back and enjoy!
Cleaning your beloved Boujad
Our incredible collection of vintage rugs come from a number of specific regions in and around the Atlas Mountains of Central Morocco and are hand woven by local women.
Traditionally these rugs are cleaned weekly by taking them outside and shaking off the dust and debris.
To keep your rug looking beautiful for another generation, follow our easy care.
It is fine particles that cause the most damage to your rugs as they cut the fibres. Over time these fibres allow dirt to stay fixed to the wool particles, or worse, you will lose the fibres altogether and start to discover bald patches on your beloved piece.
Please note that each rug is unique and has been dyed using different techniques and colours. Some vegetable dyes may run with the use of soaps or dry cleaning machines.
WEEKLY CARE
It is important that you remove dust, dirt and debris from your rug on a weekly basis. The best and quickest
way to do this is to shake your rug outside. If it's too big or you don't have the space, the next best way is to take the nozzle off your vacuum and run it across the weft of the rug, side to side, working your way down the rug. This approach will take time but is a sure way to remove unwanted debris trapped in your wool.
YEARLY OR BIANNUAL CARE
Adapting traditional rug cleaning methods is the best way to preserve the life of your rug. If you don't have a fresh stream and a tribe of women to assist you, the next best thing is a ladder and a high pressure hose (or jet stream on a standard hose).
Throw your rug over the ladder and arrange so the water can run off. Hose your rug in a downward direction, allow for the dirt to wash down and off your rug. It will take a few sprays for each section and for your rug to become saturated.
If you wish, during this method, you can use a mild wool soap to wash stains or revive your rug. It is recommended you test first for colour fast of your dyes. We advise avoid using soap or detergent if possible.
PROFESSIONAL CLEANING
This is also an option for your rug. If you select this method we recommend you do your research and ensure you hire a rug professional who understands vintage wool and vegetable dyes. Ensure they vacuum your rug first before using any water or soaps.
Thank you for choosing one of our beautiful rugs.
With regularly care you will be preserving this classic piece for years to come.